I think my favorite Old Master artist is William Adolphe Bouguereau. I've found so many paintings of his to be the perfect inspiration for art portraits! The one I used most recently was "The Little Shepherdess", painted in 1891. Now 120 years later, it's still just as lovely. Here's the original: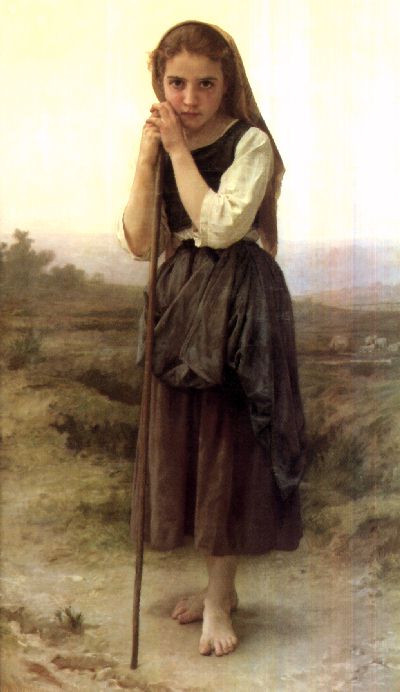 I was drawn to her sweet expression, that tiny smile and her gentle eyes! I knew this image was the perfect fit for my model.
My clients are always surprised by how short the actual photo session is, making it super easy for even busy families! Since I had found the costume elements ahead of time, we only needed 10 minutes to get the shot I wanted with that same sweet expression.
I had a background image I'd taken earlier, that I knew would be perfect for this image. So after I had edited the photo, I placed the "shepherdess" on the new backdrop. Viola!
I can't express how delighted I was that I managed to capture that same peaceful, gentle expression! I think the highest praise I could receive came from the model herself, who told me "I don't want to stop looking at it!" I have to say I agree.
A Peek Behind the Scenes: most people don't realize how much of a hodge-podge these costumes are! Most of the elements can be found at thrift stores, since a lot can be done with safety pins and clips! I always have fun thinking up creative ways to use things. For example, the black vest was a tank top that had fringe all around the bottom. I used scissors and cut it short, so part of her blouse would show like in the painting. For the apron, I used a black twin-sized sheet, wrapped around and held in place with a few pins. And her headscarf was a lovely woven lightweight blanket, folded to hide the fringe. Having many elements like this in my "wardrobe" closet makes bringing these paintings to life a lot less complicated!